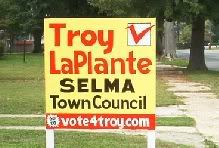 In less than two hours after I filed the paperwork, I was asked by The Selma News for a bio for the newspaper and web site. In less than three hours after I filed, there was a story on
the paper's web site
.
One local candidate files for office


By Kelly Lake, News Editor 06.JUL.07

The filing period for municpal elections began today at 12 noon. One candidate had filed for office in Selma by 3 p.m. today.

Troy LaPlante has filed to fill one of two Town Council seats up for reelection.

Gary Jackson, whose seat on the Council is up for relection, said today that he has not decided whether he will run.

Eric Sellers, who was appointed to fill the seat vacated by Jeff Weaver, said today that he is considering filing for Council, but will not make a final decision for at least a week.

Mayor Charles Hester, whose term ends in November, could not be reached by telephone at the time of this posting.

No one has filed for the Wilson's Mills mayor's race or to fill two seats on the Council currently held by Kenneth R. Jones and Clifford Uzzell.